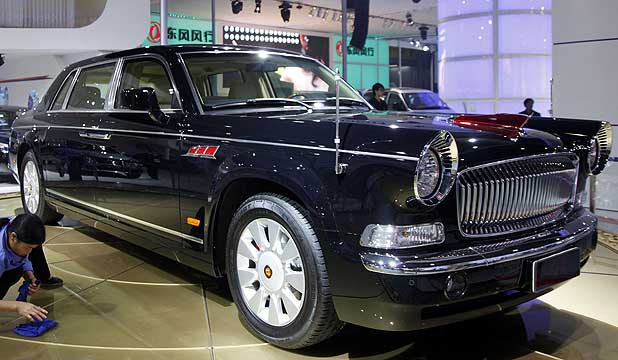 Bloomberg News - Chairman Mao Zedong's Red Flag sedans go on sale to the public today (NZ time) after a US$300 million (NZ$371m) overhaul, pitting the symbol of Communist privilege against Volkswagen's Audi for China's elite.
China FAW Group, which built the first Hongqi ¡ª as the brand is known in Chinese ¡ª for Mao in 1958, will hold an event this evening (NZ time) to mark the start of retail sales, according to Fan Xiaojing, a marketing executive with the state- owned automaker. He declined to provide pricing details.
Formerly called First Automotive Works, started by the Communist Party as a linchpin of China's industrial policy, FAW Group has delivered more than 500 Red Flags to government agencies and has been included by the Commerce Ministry as an item for foreign aid. To win private sales, FAW will have to compete against brands from Audi to BMW and Mercedes-Benz.
"China's auto market is like a jungle full of ferocious beasts," Cao He, an analyst with China Minzu Securities Co. in Beijing, said by telephone.
"The Red Flag is like a panda that grew up in a man-made environment. It won't survive unless it has the toughest type of DNA in its blood."
FAW made about 1500 Red Flag cars ¡ª reserved for high-ranking government and Party officials ¡ª in the 24 years before the brand was discontinued in 1982 for excessive gas consumption.
The revived brand is receiving a similar boost from the current Communist Party leadership.
Communist Party chief Xi Jinping said in a closed-door meeting in December that "it doesn't look good" for government officials to ride in foreign-brand cars all the time, according to the 21st Century Business Herald on March 13.
Last month, FAW delivered 12 Red Flag sedans to China's eastern Zhejiang provincial government, which bought the cars to support the Party's government-car reforms, the company said in a statement on its website.
In April, French President Francois Hollande was ferried in a Red Flag L5 limousine during his state visit to China. The automaker sent 20 Red Flag sedans to Fiji for use at the Group of Seventy Seven summit.
The car was included by China's Commerce Ministry among items the government may donate to foreign countries and the automaker said it's actively liaising with Chinese embassies and overseas governments to "fly the Red Flag in all corners of the world," according to its website.
FAW, which celebrates its 60th anniversary in July, plans to invest at least 10.5 billion yuan (NZ$2.1b) into developing the Red Flag through 2015, the company said on its website. The car was developed by FAW, which owns full intellectual-property rights over its engine, chassis, body design and electronics, according to the company.
"At the current stage, the biggest responsibility of FAW is to make Red Flag brand work," Chairman Xu Jianyi said last year. "It is a matter of dignity to the Chinese people as well as the responsibility of FAW as the very first automaker in China."
To promote the brand to Chinese consumers, FAW plans to set up Red Flag service facilities in major cities including Beijing, Shanghai and Guangzhou, according to the company.
Workers were still cleaning up the 500 square-metre Red Flag outlet overnight (NZ time) at Beijing's upscale Jinbao shopping street, home to dealerships for Lamborghini, Rolls-Royce, Maserati, Ferrari, Aston Martin and Mercedes-Benz.
Shop assistants were wiping down the four brand-new H7 Hongqi sedans temporarily parked on the pedestrian pavement, opposite the shopping mall housing boutiques for Gucci, Omega and Burberry.
Li Yong, 59, a retired civil servant, was among those who stopped to gaze at the gleaming H7 Red Flag.
"To older people like me, the Red Flag is an icon of status and glory," said Li, who was visiting the Mercedes-Benz dealership across the street. "I would like to buy the car if I need it, but my son thinks otherwise. He isn't emotionally attached to the Red Flag brand at all and wants a Mercedes instead. That's why I'm here today to take a look as well before he buys it."