Growing ranks of cities to limit new license plates
As pressure mounts on infrastructure and the environment, Tianjin will become the latest in a string of cities to restrict automobile purchases.
On August 6, the Tianjin municipal government released a guideline that said "responding to the increasingly congested traffic in the city, Tianjin will consider restricting car purchases and use in proper time to prevent the too-fast growth of the number of motor vehicles".
The government also said in the document that it will build more parking garages, reduce parking on the streets and encourage residents to use public transport.
Statistics from the municipal traffic administration show that Tianjin had about 2.4 million vehicles on the road by the end of January. More than 70 percent of newly registered vehicles in the city last year were privately owned.
Earlier local newspaper reports cited officials at the Tianjin Environmental Protection Bureau saying tailpipe exhaust has become a "major factor" affecting the city's air quality. Pollutants from automobiles in the city total about 500,000 tons every year, the bureau said.
Without a specific timetable, the guideline is widely seen as a declaration that the Tianjin municipal government will curb car purchases.
But the announcement might cause panic buying in the short term and is not good for a healthy development of the auto industry, said Zeng Zhiling, director of LMC Automotive Asia Pacific Forecasting.
Zeng said restricting car use instead of purchases is a more effective way to ease traffic because congested cities already have a large number of vehicles on the road.
Limiting new car sales is not a good way to reduce pollution either, because pollutants mostly come from old cars on the roads, he added.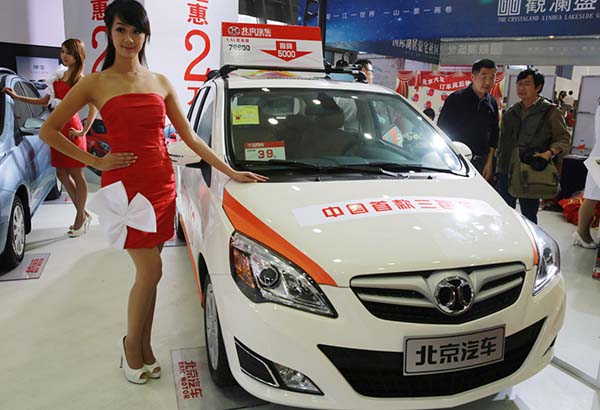 Budget car on sale. In Shanghai the plate cost can be higher than the sticker price of some new cars.
Clear trend
Despite such questions, the trend is clear that more cities are following the lead of Beijing, Shanghai, Guangzhou and Guiyang to limit car buying.
Just two months ago, the government of Shijiazhuang, capital of Hebei province, announced it would prohibit families from buying a third car starting at the end of this year. The city government vowed to prevent the number of cars on the road from exceeding 1.9 million this year and to keep it to a maximum of 2.1 million by the end of 2015.
Last month, the China Association of Automobile Manufacturers told the media that more cities including Chonggqing, Chengdu, Hangzhou, Shenzhen, Qingdao and Wuhan are likely to adopt similar policies.