Early financial info shows the outlook for full year promising
Auto companies are on track to achieving strong annual profit growth in 2013, according to a preliminary estimate based on automakers' newly released financial statements.
To date, more than 70 percent of the country's 80 automobile manufacturers have released their financial statements for the first three quarters.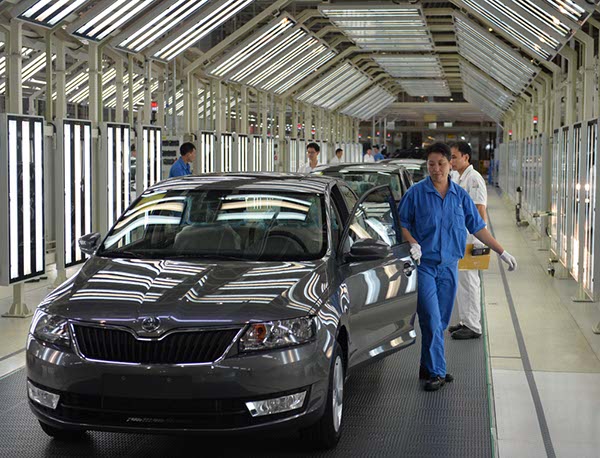 Workers at the production line in Yangzhou, Jiangsu province. Cost control and better utilization of production capacity are driving forces for domestic automakers' sustainable growth, analysts say. [Han Chuanhao / Xinhua]
Most companies reported substantial year-on-year increases in revenues and profits.
Some automakers reported revenue growth of more than 80 percent.
A few domestic brands even posted three-digit growth over the same period last year.

SAIC Group's revenue totaled 421.65 billion yuan, an increase of 19.5 percent year on year.
Its net profit was 18 billion yuan, up 11.6 percent.
SAIC's sales increased 14.8 percent to more than 3.79 million units.
Its market share grew 0.4 percent to 23.9 percent.
Industry insiders predict that Shanghai Volkswagen and Shanghai GM - both SAIC joint ventures - will achieve higher full-year profit growth than 2012.
"We anticipated that SAIC will have relatively high profit increase in the years of 2015 and 2016 because Shanghai Volkswagen and Shanghai GM will have larger production capacity and more new models to help the group achieve significant growth," said an analyst with Ping'an Insurance Company of China.
FAW Car Co is among the companies that have not yet released financial statements, but it predicted that its net profit in the first three quarters will be between 700 million yuan to 850 million yuan.
However, in the same period of last year, the company had a deficit of 310 million yuan.
The company attributed its profit surge to an increase in sales and a reduction in the cost of imported components and parts due to the depreciation of the Japanese yen.
Chang'an also reported shining performance in the period. Its revenue increased 208.69 percent year on year.
Analysts said the growth is related to the release of Chang'an Ford's new models, including Escape, Ecosport and new Mondeo.